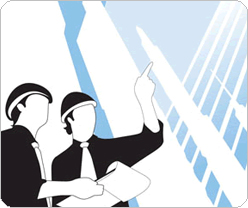 We hereby take pleasure in introducing ourselves as a Civil Contractor undertaking all kinds of work of construction of new buildings as well as restoration of old buildings.
We have been highly successful to progress from a modest beginning over 20 years ago, now to a capacity to handle multi crore construction, renovation and rehabilitation projects, both in and out of Mumbai.
This is an organization headed by qualified and highly experienced Engineers and Supervisors, staffed as well with a large, well disciplined and efficient labour force.

Our primary considerations is to earn approval and appreciation from our valued Clients and Consultants for entrusting us with their prestigious projects timely our endeavor to earn goodwill of our clients and consultants even after completion of the Projects.

Our past 20 years of work exposure particularly in construction, renovation and rehabilitation have equipped us with advanced technical know how. Whether it is specialized structural repairs, water proofing, plumbing, painting or interior decoration, our excellence in execution of projects has been acknowledged and well appreciated.